I'd always heard people talk about Disney and how amazing it was. I'm happy to say that I now agree with them.

We stayed at Port Orleans Riverside and had the dining plan.

We left Pittsburgh and had a great flight to Orlando. We had an evening flight and by the time we got to our hotel and were checked in, it was around 10:00. We got the gift bag that I'd ordered for the kids and DH. Turned out nice! The kids each got a Mickey/Minnie Santa Hat, a pin lanyard, and a plush. There were Mickey-head shaped cheese crackers, pretzels, and some candy in the bag, plus some Mickey chocolate-covered pretzels for Dh. Bub was asleep, but Krissy was so excited and actually went to sleep with the Minnie Santa Ears on.

Our room was in Magnolia Bend, which was a short walk to the lobby, the pool, and the East Depot. Per our TA's request we got a first floor room so that we wouldn't have to haul Bubby up the stairs at night. The room was ok. I have to admit that I was a bit disappointed in the cleanliness. The remote control was no where to be found and so we looked under the beds and found a used baby spoon and some used napkins. We were also missing the Ethernet cable. I called up to the Front Desk and told them we were missing the remote. She asked if we'd looked in all the drawers and I assured her we had. They brought a remote a few minutes later, but no Ethernet cable. We were hungry and so DH went up the the CS restaurant and used our first CS credits. He was told that they don't separate out the kids from the adult CS credits. That came in handy. DH got pizza, I got a bacon cheeseburger (they forgot the bacon on it, though) and Krissy got chicken tenders. Bubs was sleeping. The burger was pretty yuck. Tasted like the ones they served in the cafeteria in high school. So far I'm not too impressed. We go to bed and I find that the beds are really, really comfortable. I thought we'd all be too excited to sleep, but nope. We were all out cold within a few minutes.

We got up Saturday AM 12/8 around 7:00. We've got an 8:30 ADR at Chef Mickeys. We caught a bus to the MK pretty quickly.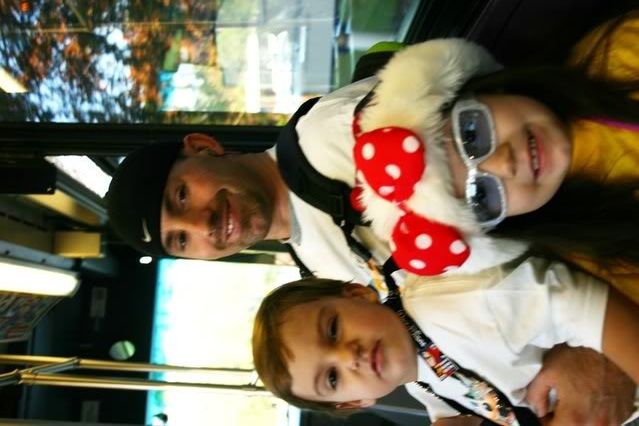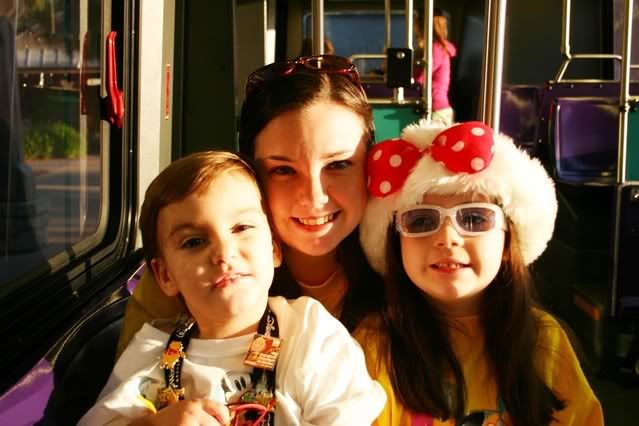 And then from the Magic Kingdom took the monorail to the Contemporary. The took our picture with their camera and mine. I'd read a tip to write down the EVNT code on the picture when they brought it to see if we wanted to purchase it and then add it to the photopass account when we get home. I did that and we didn't pay the $31.95 they wanted for the pic. I figured if the code didn't work, I'd at least have the one on my camera.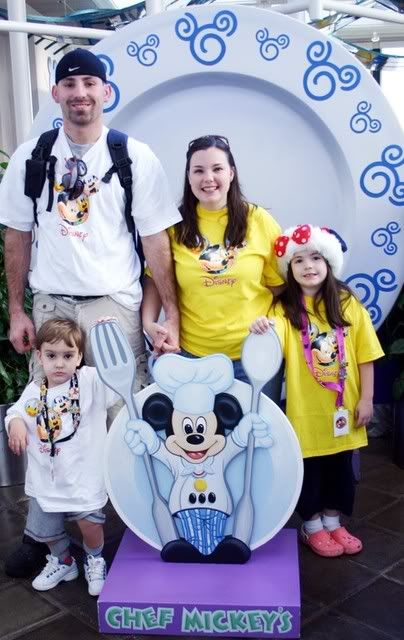 We were seated pretty quickly and got our food. I found this meal to be a bit odd. The food was good, but the characters came around pretty sporadically and so the kids were so into watching when they'd be at our table that neither really ate much. Mickey was first.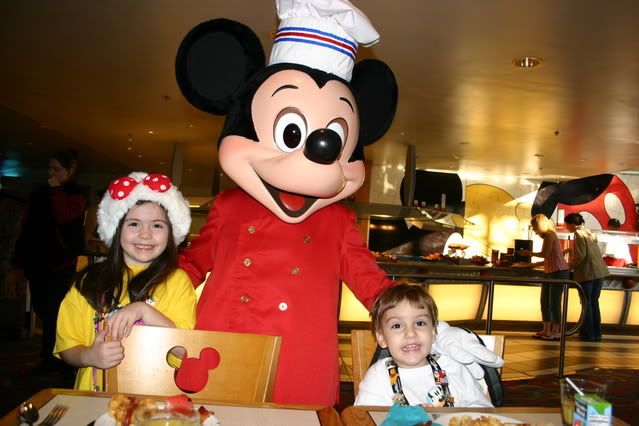 I'd pre-made autograph books for the kids and had the pages out ahead of time so that each character could sign their page and I could then slip it back into the page protector. Then there was a spot on the opposite page for a photo. The lady at the table next to us was so impressed that she asked if I wanted to sell ours to her!!! I declined. Figured she'd not want to pay for the time and materials and plus I was excited about the books being mostly complete when we got home. The other characters came by pretty quickly, with the exception of Minnie and we waited 40 minutes for her!!!!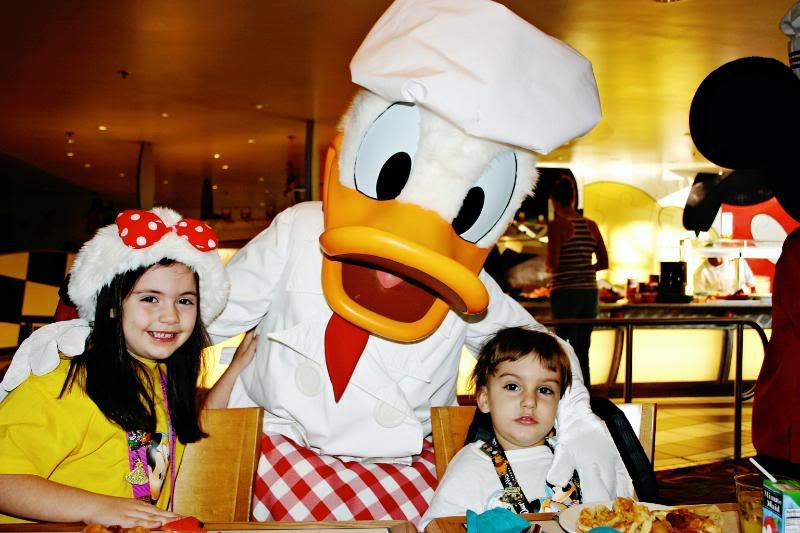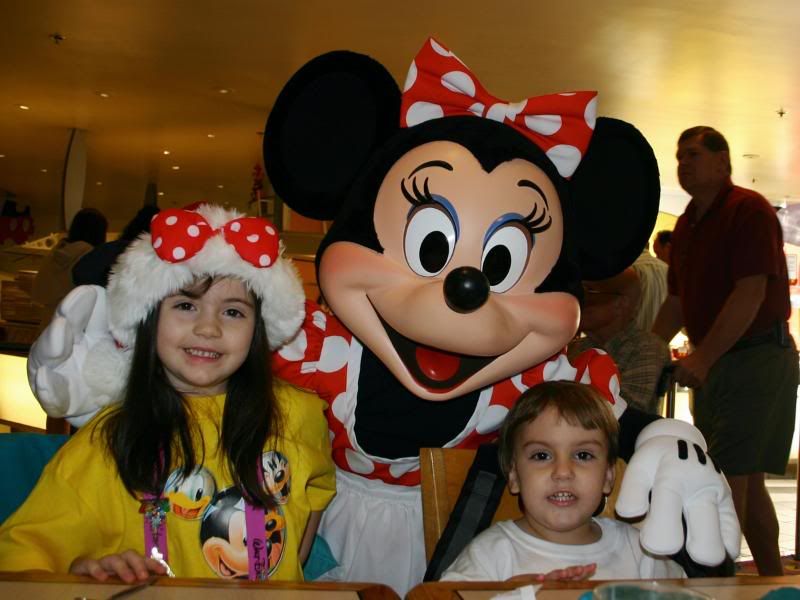 Finally we're off to the Magic Kingdom on the monorail. We arrive at the MK and stop at City Hall to get the Guest Assistance Card and a tag for the stroller to show that it is a stroller being used as a wheelchair. This was a pretty simple process. We start down Main Street and Krissy is just enthralled with the castle (so was I). I felt a bit weepy at this point. We were finally in the most magical place on earth. We'd made it happen. My kids were going to see Disney!!! I took one of my favorite pics at this time.



On Saturday we didn't get as much done as I'd hoped. When we got there, the Dream Along with Mickey show was going on and we stopped to see it. We went through Toontown and rode Goofy's Barnstormer and played in the water at Donald's Boat. Krissy used her Disney Dollars and bought herself a pair of Princess Ears, a set of pins for trading, and a baby Simba in the giant store in Toontown. Bubby bought a ball and a pin. I'd bought the kids each eight pins on ebay to start their collection, but made the mistake of picking pins that the kids would like and so Krissy wanted to trade, but didn't want to trade any of her pins. So she bought this set of baby characters and picked our four of the seven that she'd be willing to trade.

Next we rode the Magic Kingdom Railroad and next went to Pirates of the Caribbean (love how they've added Cap'n Jack, Davy Jones, and Barbossa). We saw bit of the Pirate Tutorial (I was hoping that Cap'n Jack would stick around for autographs and pics but NOPE. The we saw Mickey's Philharmagic (LOVED IT! all of us LOVED IT!) and then used our fastpass to ride The Many Adventures of Winnie the Pooh. It was time to take the boat to The Wilderness Lodge for dinner at the Whispering Canyon Cafe. Now let me add that I'd woke up with a terrible headcold and it got worse as the day went on. I felt like I had airline ear and was shouting, but in reality Dh said people could barely hear me. Dinner was good (gotta love all you can drink milkshakes!) and we enjoyed the antics of the servers. Ours was a dud and no fun at all, but some of the others were making hats for the people at their tables out of napkins and straws and the ketchup thing never ceased to be funny. I must say I think the desserts were the best part of the meal!

After dinner I went to the WL's store and found cold pills. They helped a lot. I'm not sure that I would've lasted until fireworks without them! Back to the MK were we saw Spectromagic and then Wishes. Wishes was just beautiful. Then the trouble came. The MK was open until midnight. So Wishes ended about 9:20 and there was another Spectromagic starting at ten. People were already lined up for the parade and it seriously took 45 minutes just to get out of the park. DH and I got separated and by the time I found him again I was near tears. I didn't feel good and I just wanted to sleep. We finally get to the line for the POR bus and holy cow! There was a bus sitting there but the lift wouldn't go down so they couldn't load the ECV's and wheelchairs into it. It would be considered discrimination to only load non-ECV and non-wheelchair people into the bus, so that bus sat empty until two more buses came and got all the ECV/Wheelchair people and then they could finally load the bus with the broken lift. We ended up standing and Jimmy was trying to hold sleeping Bub + stand without falling. Not easy at all. Finally got back to our room at 11:00!

Sunday 12/9 was Epcot day and lemme tell ya, I loved Epcot. We got our Fastpasses for Soarin' and then went to Living with the Land. We all enjoyed this. Next we did Circle of Life. Krissy is a HUGE Lion King fan and so we HAD to do this. Not bad. It was airconditioned and the chairs were soft. I think it had a good message. Next, we went around Innovations a bit and then did the Seas with Nemo and then Turtle Talk with Crush. We did Soarin', which was every bit as good as I'd heard. Next, we ate at the Electric Umbrella and then headed back to the hotel to swim and take in a bit of the Steeler game. Then we got Krissy into her Little Mermaid dress and headed back to Epcot for our dinner in Norway. Here I made a big mistake. We went the wrong way around world showcase. By the time we found Norway, we were 45 minutes late for our reservation and I was so worried they wouldn't seat us. Krissy really impressed me here. She never complained once about walking the entire world showcase and so I bought her an Ariel princess crown to go with her dress since she was such a trooper!



They were really nice and called us pretty quickly considering how late we were. We got our pic taken with Belle (one of Krissy's favs) and I'm so glad they did one with my camera because Bub had an odd look on his face in theirs. Oh well, made it easier to turn down the $31.95 pics. Although I didn't get to write down the code before they took the pics away.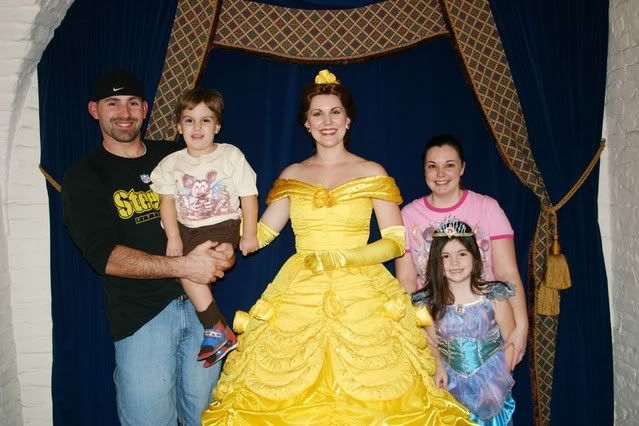 I loved the food here. And so did Jimmy. If we ever get to go back to Disney, we'll eat here again! The first princess to come around was Jasmine.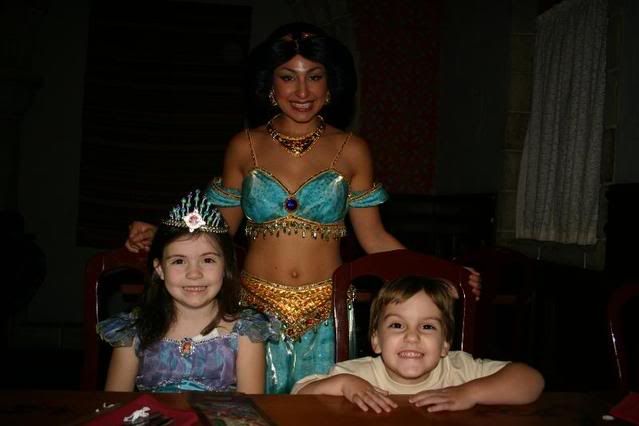 Krissy's three favs are Ariel, then Belle, then Jasmine and Mulan. The only one we didn't get to meet was Mulan. But right after Jasmine came Ariel. This is especially cool for Krissy because Ariel made a big deal about Krissy being dressed just like her and I've been told that Akershus is the only place in Disney to seel Ariel with feet instead of fins.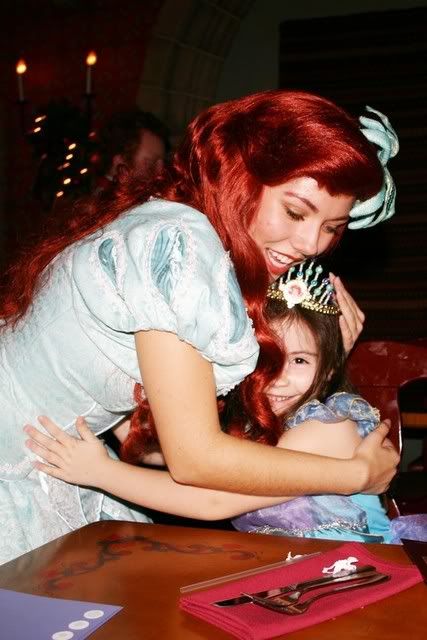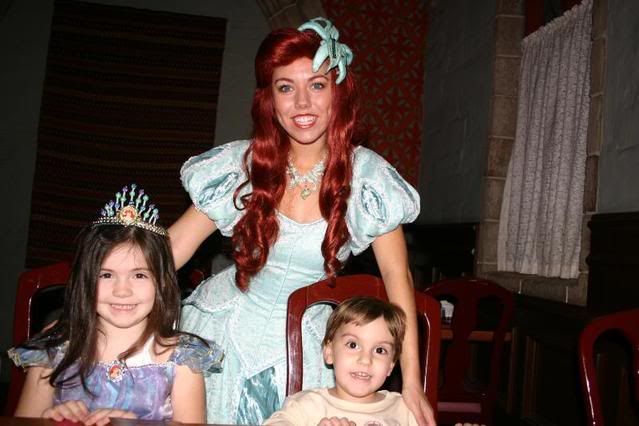 We also saw Cinderella and Aurora. Wonderful meal, wonderful time.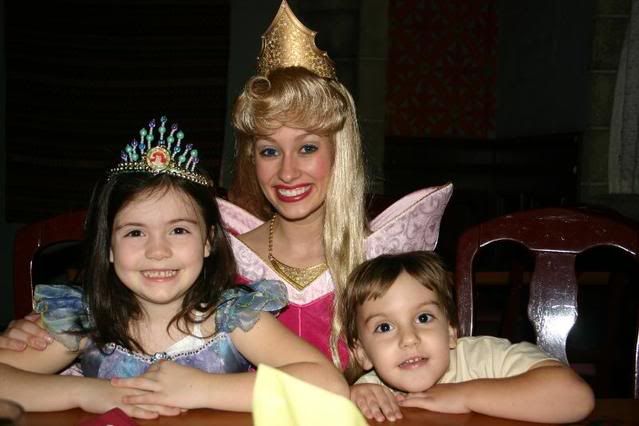 We left happy and went out to ride Maelstrom. Pretty tame ride. The kids enjoyed it. We came out from there and grabbed a great spot for Illuminations. DH and Bub saved our seats while Krissy and I went to check out the puppets for sale in China. She used more of her Disney Dollars to buy a horse puppet, which was a good purchase because it kept both kids amused until Illuminations started.

Illuminations was just amazing! At the end, they added a part about "Let there be peace on Earth" and it made me cry again! Getting out of Epcot was much easier, although the busing back to the hotel was worse. We got to see two men pushing and shoving each other and shouting the "F" word because the one "Mario" was first in line and "Team Truman" moved in front of him to let an ECV through. "Mario" freaked and DH decided that this is why they shouldn't serve alcohol in a theme park. Again it was after 11 when we finally got back to our room.

Monday 12/10 was MGM day. I enjoyed this park more than I'd anticipated. The only bad part was that The Voyage of the Little Mermaid was closed for the day. We got there just in time to see the HSM show and then we went to see the Indiana Jones show. We had lunch at Pizza Planet, and then we went to meet Woody and Buzz. We were lucky enough to be the last ones before their break!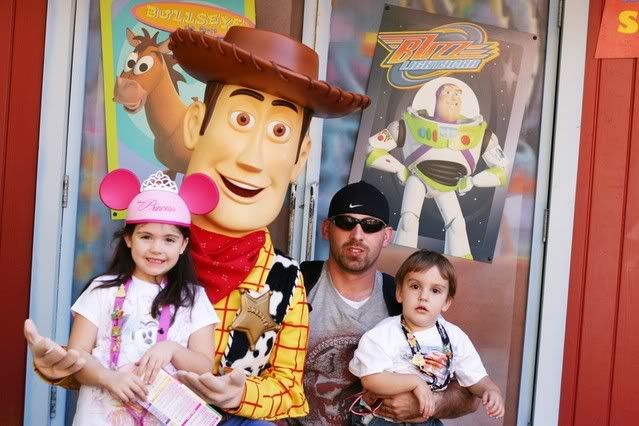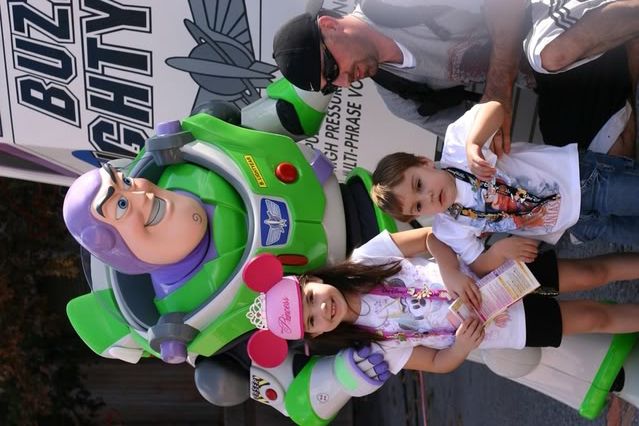 Then we did the Backstage show/ride and then met Sulley from Monster's Inc.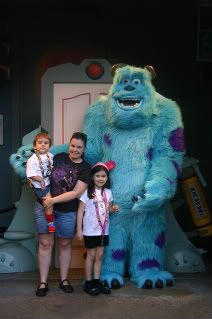 We next had some ice cream before going to see the Beauty and the Beast show, which Krissy and I both liked. Bub fell asleep. Then Krissy and Jimmy did the Tower of Terror. I don't like rides that drop so I was more than happy to stay with the sleeping boy.

He woke up and we went to meet the Ratatouille characters. Here was a bit of a magical moment for me and Krissy. We both really like Emile and were disappointed when we got there to see only Remy. We wait in line and finally there is only one family infront of us. Then they say that Remy needs some cheese so if we wait five minutes or so, he'll be back with a surprise. I was hoping that the surprise was Emile and I was right! I was super excited and so was Krissy.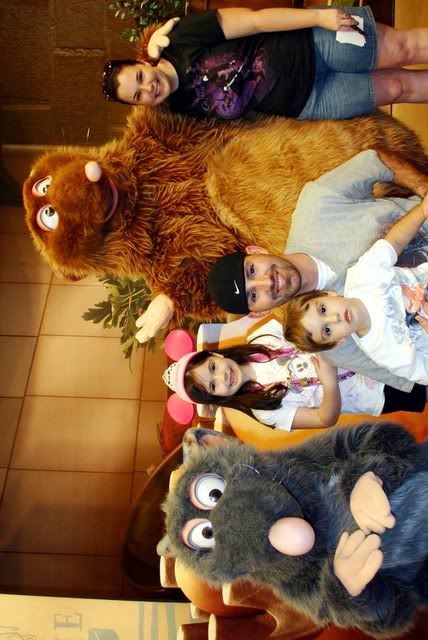 We stopped to meet the JoJo and Goliath and then headed to Fantasmic. We wanted to make sure we got seats. The show was really good although it was my least favorite of the night shows. Fantasmic was over and it was time to rush to Epcot for dinner at LeCellier.

This was a dinner that that worked hard to get. I called every day twice a day hoping to get reservations and finally I got them for 7:40, which worked out well with Fantasmic at 6. Or so I thought. We asked at the exit and were told that the fastest way to Epcot was the boat. The boat took so long that we finally got off at the Beach Club and walked to Epcot! We were late already.

Then for some reason I had it in my head that LeCellier was in France, so we wandered around France before discovering that LeCellier was actually in Canada! We ended up 1/2 hour for our reservations. This time we had a 1/2 hour wait since we were late. Dinner was well worth the wait and I was impressed with the kids. It 8:30, they were getting tired and hungry, but once we sat down, they were happy and were angels though dinner.

I indulged in the official Year of a Million Dreams drink and I got Krissy the punch with the glowing Tinkerbell. I swear that Tinkerbell made her whole day! I'd wanted to get the captain hook for Bub, but he only wanted chocolate milk. I got the cheese soup for my appetizer and DH got the Polenta with spicy chicken sausage. My soup was good but his polenta was amazing. My steak was the best I'd ever had and DH felt the same about his. I got the Creme Brulee and DH the Sorbets for dessert. We got out right at the end of Illuminations so we had the crowds and bus issues again! Another night back at the hotel at 11.

12/11 - Our last full day was to be Animal Kingdom in the AM and then Mickey's Very Merry Christmas party at night. I'd actually considered skipping the AK and going back to Epcot so we could spend some time in World Showcase, but Krissy really wanted to see the Lion King show and DH really wanted to ride Expedition Everest. So off to Animal Kingdom we went.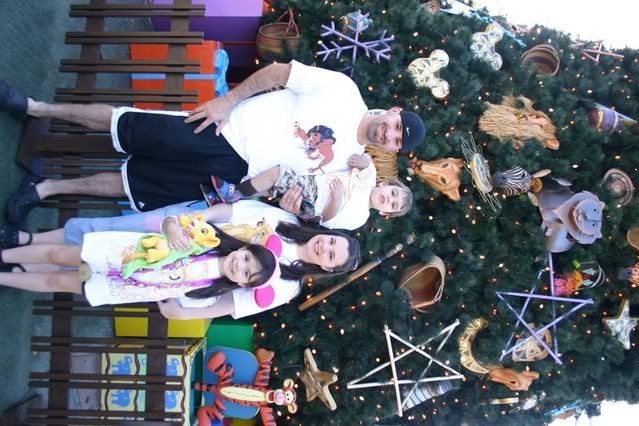 Boy am I glad. We got there and first met Lilo and Stitch and then went to the Lion King show. Krissy asked the CM at the Lion King show to trade with her. She wanted another Lion King pin. The CM asked if Krissy liked the Lion King and Krissy said it was her favorite Disney movie ever. The CM took us in, sat us in the front row and then asked Krissy if she'd like to help get the show started. Krissy was so excited. She got to teach the audience the hand motions. The CM brought Krissy back and had a certificate that she'd received a dream in the year of a million dreams. Krissy was ecstatic. As we were getting ready for our trip Krissy'd read a lot about the Year of a Million Dreams and really wanted to win something. So did I. I wanted the Dream Ears. But Krissy was happy. She'd won a Magical Moment.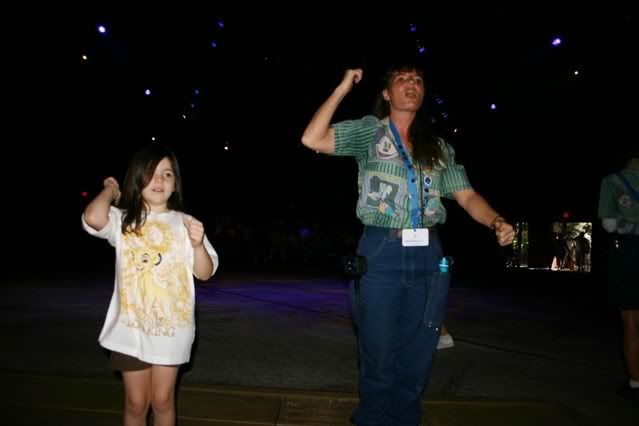 Krissy and I went to meet Mickey and Goofy. I wanted my pic with Mickey. Of course, when we got to Mickey there was no photopass person
and the pic of Mickey and I from my camera is blurry! But there's a good one of all of us with Mickey.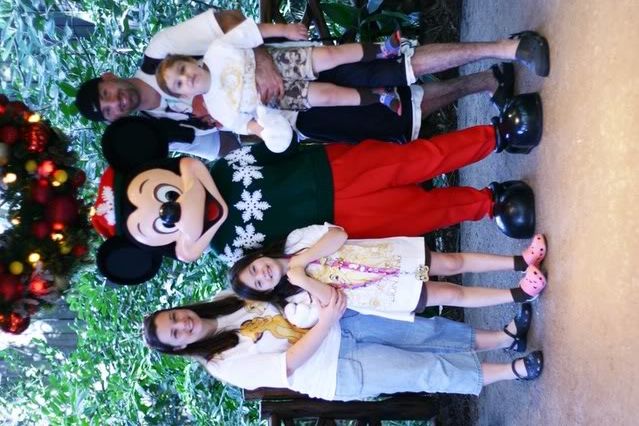 Next Krissy and I went to meet Goofy. Bub was having a meltdown about the Mickey cheese crackers. He didn't want to share. No way! So now when he sees that pic he always asks "where's me?" and I tell him "eating crackers"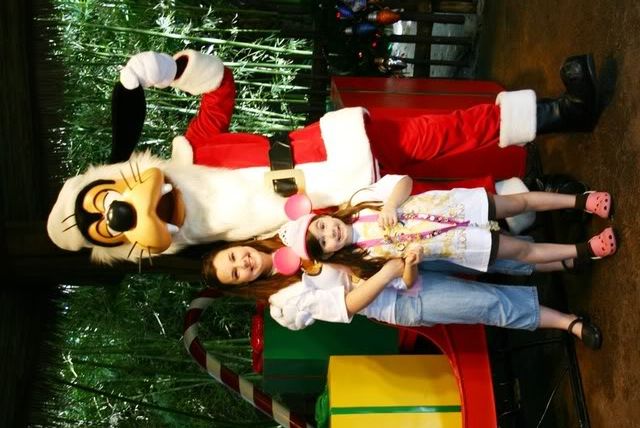 We got our fastpasses for the Kilimanjaro safari and then took the train to Rafiki's planet watch. I'm not much of a nature person, so I was a bit bored here, but we did get to meet Pocahontas, Rafiki, and Jimini Cricket. Stopped and did the kids activity and then took the train back over towards the Safari. We were still too early, so DH was off to get the Fastpasses for Expedition Everest while the kids and I met Baloo and the monkey (not a fan of Jungle Book) and then we got a snack of fruit and bagels. DH got back just in time for our Safari. Now I've gotta say, this was enjoyable but not necessarily something that I'd NEED to do again. Again, it's probably that "not a nature person" thing. I cringe when DH watches Animal Planet. Give me the Food Network anyday over Animal Planet. After getting off of the Safari it was our EE time. We did the parent swap and Krissy and I went first. Then we wandered around looking for DH. Finally found him and he and Krissy went on it. As I see the people exiting I see in their hands the DREAM EARS!!!! I'm at this point so excited for Krissy and DH and I finally see each of them emerge with a set of ears. I was happy and yet jealous at the same time. Those ears are the only things I wanted from this trip. I rode the ride, too. Where are my ears???? Dh walks over and hands me his set. I tell him that they're his ears and he should keep them. He says "No. You made our dreams come true with this trip and so you should have the ears." I resist again. "We should give them to Bub". Bub says that he wants the ones that light and so I put the ears on my head. They are now my ears!

We start out of the part and find a photopass photographer. I know that they can do one with Simba in the picture and so we stop. I get them to do one with my camera and then they take several with the Photopass (don't have that CD yet) so here's the one of us with our dream ears in front of the Tree of Life.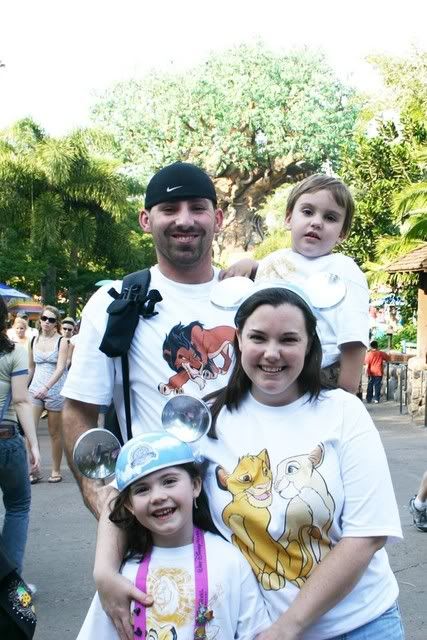 We take the bus to the Magic Kingdom and ride Snow White before our dinner at the Crystal Palace. Crystal Palace was very yummy. I enjoyed every meal this trip but this was one of the best. Took us 40 minutes to see Pooh, though and then they took us to Pooh since we'd been there so long.



MVMCP was nice, but I'm not sure it was worth the extra money. It was sold out the night we were there and it was very crowded. Short time for the rides but long lines for most of the characters. We did find Aladdin and Jasmine with a short line and stopped to see them.
[IMG]http://i7.photobucket.com/albums/y273/hogue_97/IMG_3863.jpg[/IMG]

We saw Mickey's Philharmagic and wasted time with the Tiki Room (not worth the time). We rode Haunted Mansion and It's a Small World Afterall, Buzz Lightyear and then got a prime spot for the parade courtesy of a CM who noticed the red tag on the stroller. While were waiting to see the parade (was about 10:30) Bub got upset because one of his ears wasn't lighting. I was bit miffed because we'd just bought them six hours before, but there's a spot for the batteries to be changed so I told him we'd replace them at home. A CM overheard and returned a few minutes later with a new set of ears for him.

This was the second time something like that happened. Krissy bought a pair of Ariel sunglasses on MGM day. She wore them all day and took them off while I was taking a picture of the Christmas tree on our way out of the park. I came over to see her aimlessly moving them back and forth on the stone bench. They were scratched although not too badly. Krissy was pretty upset and kept saying that she'd made a bad choice. So I stopped at the little booth to see if they had anyway to buff out the scratches. They tried with a cloth and when it wouldn't work the CM told Krissy to go pick out a new pair. I explained that we hadn't purchased them like that and that there'd been an accident with them, but the CM told me she understood and that it wasn't good for Krissy to be unhappy at Disney World. Needless to say, I was pretty impressed with their customer service.

12/12 - Was Krissy's special day. We had to be at the hotel to leave at noon and in the AM I'd booked Krissy at the Bibbidi Bobbiti Boutique and then breakfast for us at Cinderella's Royal Table in the castle. I'd got Krissy the Deluxe Cinderella dress at a sale before Halloween and Krissy had no idea until the morning of 12/12 that any of this was going on. We got moving and got to the park and got one of those coveted photos of people in front of the castle without a million other people.



Got Krissy to the BBB boutique and she was treated just like a princess. This was something that I wanted to do for her to thank her for all her help and patience with Bub. Ironically the dress I'd picked up before Halloween was nicer than the ones you got with the $179 package! Krissy was beautiful after her makeover, but I must say I don't think she looks much like my "bug" and I prefer her hair long.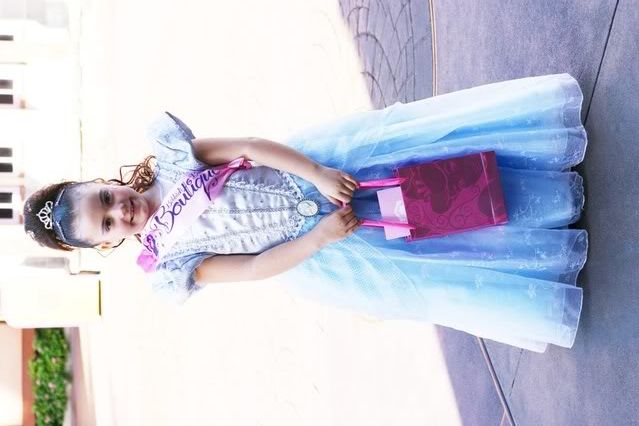 Next we were to eat at Cinderella's Royal Table. I think I was as excited as Krissy was. First she got her pic with Cinderella. This pic was actually included with the package and I was also able to enter the EVNT code and get it added to my photopass CD. Here's my version.



This meal was very well managed. I think it cost us around $130 but I actually *think* it was worth the money. The pictures were included. Krissy got a magic wand and Bubby got a sword. They both got a Wishing Star. We got to see Snow White and Mary Poppins, both of who we hadn't seen before, along with Aurora and Belle in her blue/white dress.

The food was pre-plated, but excellent. First they brought out the most delicious fresh fruit with Kiwi and Mango along with strawberries and melon. In another basket were muffins, cinnamon rolls, and biscotti. Next they brought out the pre-plated meals. The kids got french toast sticks, scrambled eggs and bacon. I think this is actually one of the meals that they ate best on the whole trip. I didn't have to fight with anyone to eat. Jimmy and I got scrambled eggs, bacon, sausage, this yummy puffy french toast with blueberry sauce and the best potato casserole I'd ever had.

The princesses came through in a timely fashion (no waiting here or at Norway like we had to at Chef Mickey's and Crystal Palace). Aurora kissed Bubby and he told everyone all day that a princess kissed him.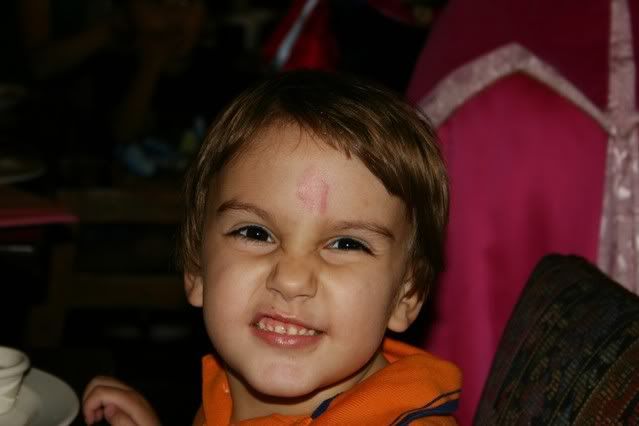 We were happy to get done there pretty quickly and we were even able to stop and use our last snack credits on some candy.

We got back to our hotel, caught the Magic Express to the airport and we were on our way home.

If I had it to do again, I'd have booked us at least one, maybe two more days and I may have gone down to a Value Resort. For all the more we were at the hotel, it wasn't worth the extra money for the Moderate Resort. One day per park just wasn't enough time and we'd have not got to do everything we wanted at the MK without Mickey's Very Merry Christmas Party. I needed more time at Epcot. But we did what we could manage and it was an amazing trip.